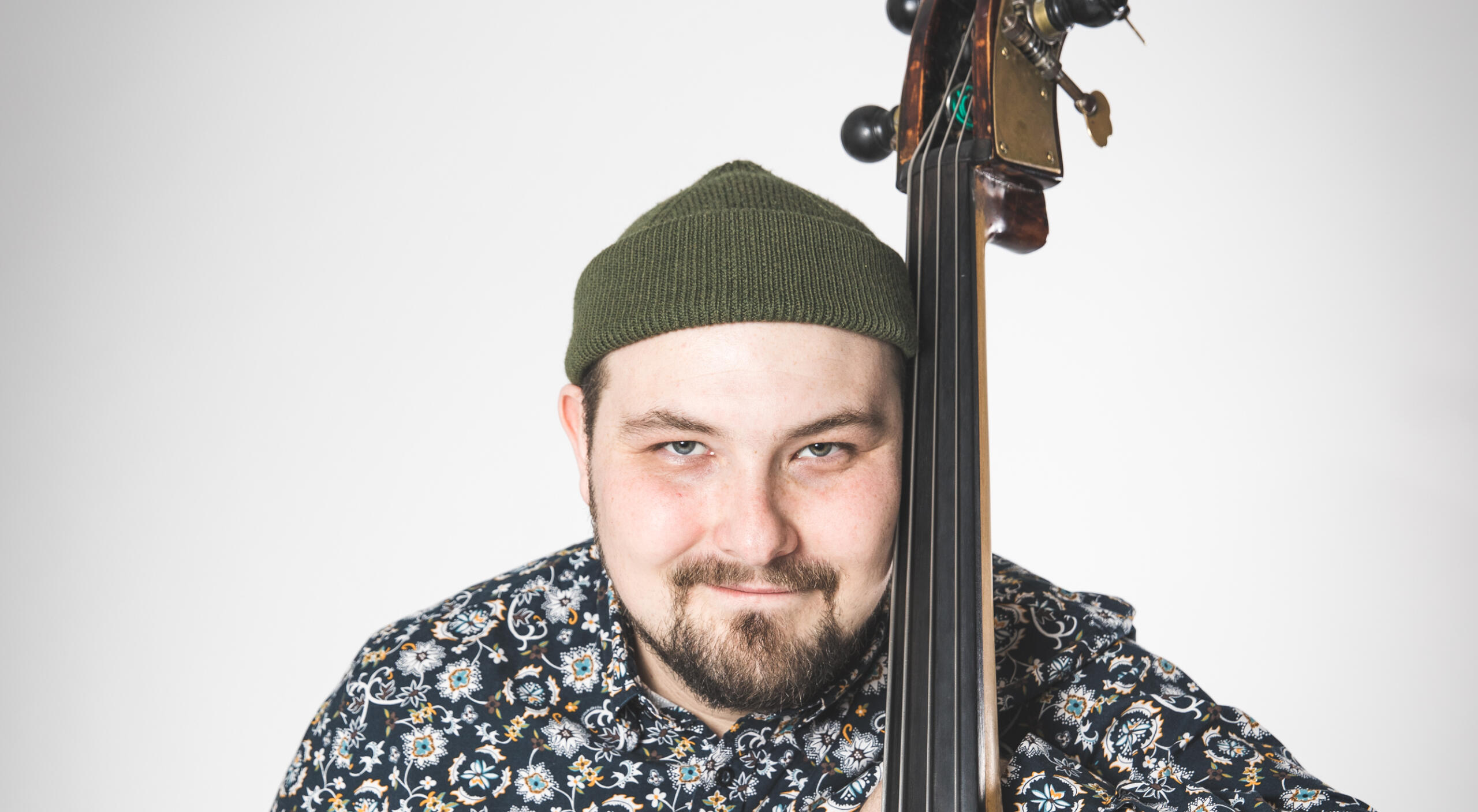 Photo: ©Aija Svensson
Malte Zeberg
Swedish Bass player & Folk Musician
About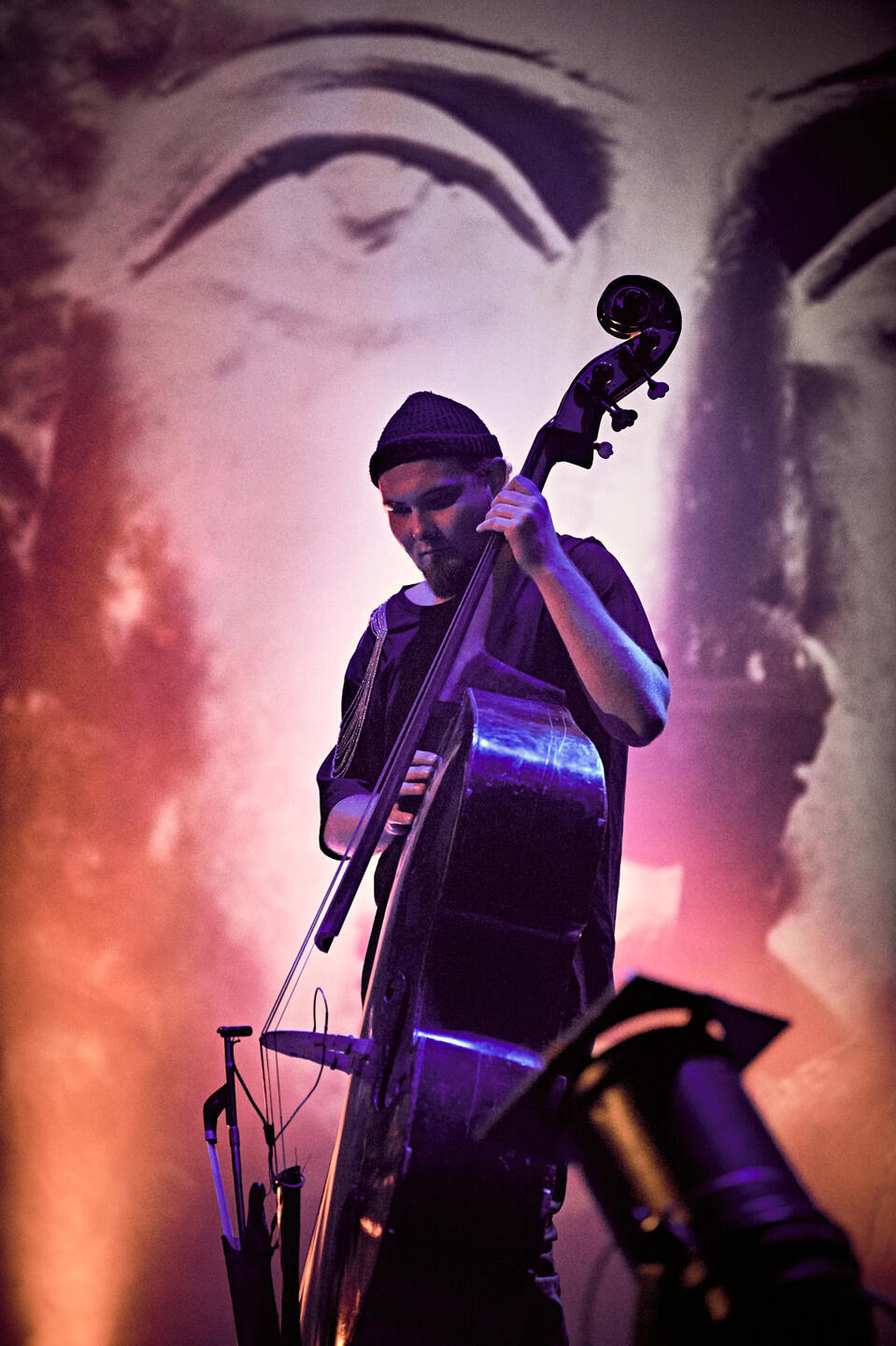 From the audio/visual show Queen Zenobia by Kristina Issa at Stora Teatern in Gothenburg 2018
Malte Zeberg is an experienced bass player and folk musician from the region of Scania in southern Sweden. He is currently active and touring in many different bands & projects, such as Trolska Polska led by famous danish musician Martin Seeberg (Sorten Muld, Instinkt, Asynje), Floating Sofa Quartet together with Mads Kjøller Henningsen (Lars Lilholt Band, Spöket i Köket, Pøbel, Trolska Polska) Leija Lautamaja (Enkel, PK Keranen) Clara Tesch (Vesselil). He also works regularly with esteemed artist Kristina Issa (Actor and musician at the Gothenburg City Theater and Backa Theater).The Nordic folk music has a special place in Malte's heart, but he is a versatile musician who is always curious to explore new genres and styles, with experience in playing everything from improvisational music to rock and pop. Malte always tries to use as much of the double bass as possible by not always taking the obvious role as the bass but also to make use of the instruments range as both a rhythmic and a melodic tool.Brought up in a home of academics and visual art he early on found interest in all the art forms, both contemporary and traditional. Malte has studied folk music at the renowned Skurups Folkhögskola where he spent two years learning traditional music from great teachers and musicians. Here he started developing his unique playing style with influences from both jazz bass players and folk music instrumentalists. After the years at Skurups Folkhögskola Malte moved to Gothenburg to study at the world music program at the Academy of Music and Drama. There he studied under great musicians, such as Sebastian Dubé, Thomas Markusson and Jonas Simonsson. He also deepened his understanding of music from West Africa and Middle Eastern countries, broadening his repertoire even more.
Bands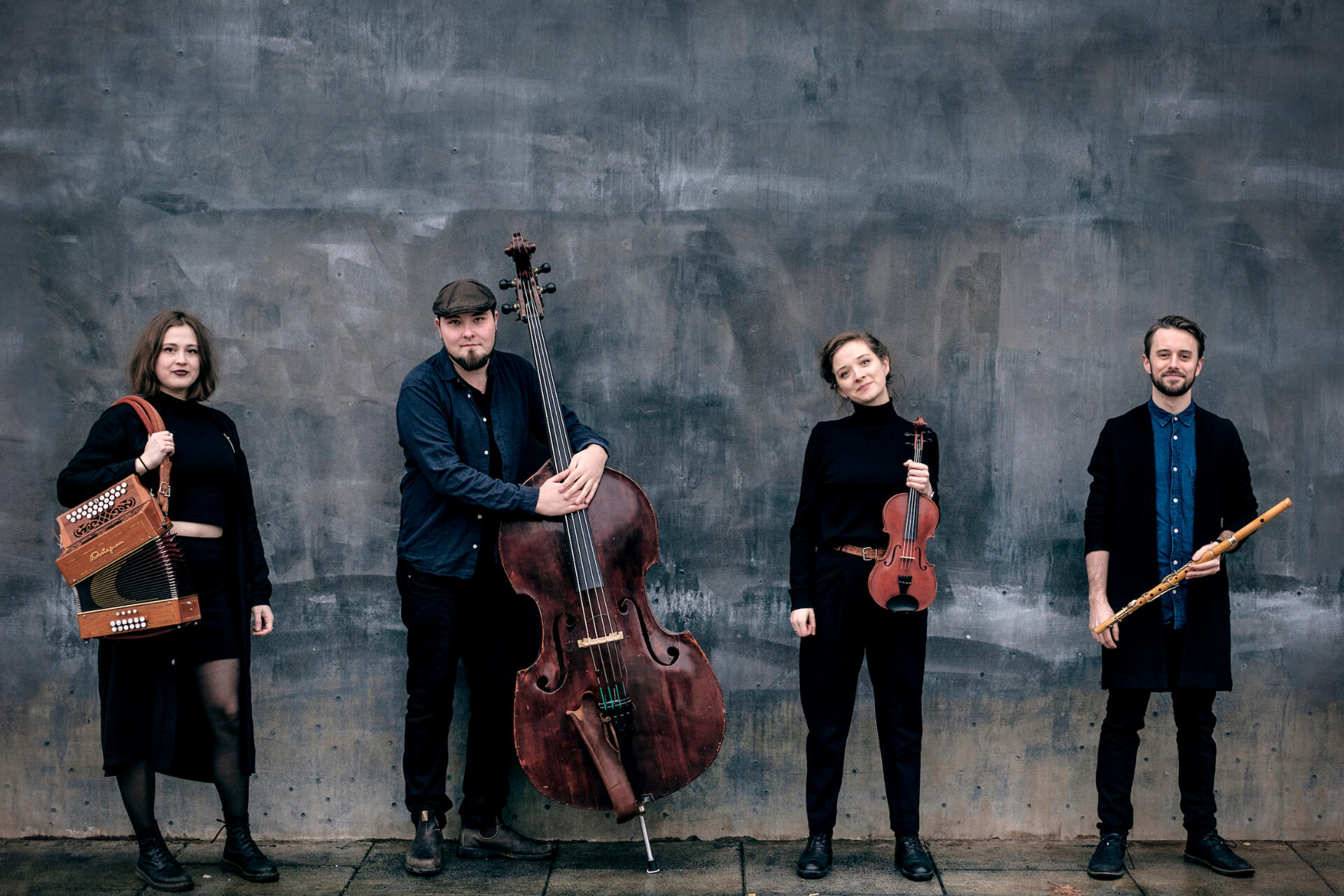 Photo: ©Ivan Boll
Floating Sofa quartet
Floating Sofa Quartet is a modern Nordic folk music ensemble consisting of four young
musicians from Denmark, Sweden and Finland.
With a unique combination of instruments this quartet performs handmade music with a
scent of dewy pine trees, salty sea breezes, and freshly brewed coffee. Their repertoire is
an exciting mixture of own compositions and traditional pieces from their respective
countries; tender melodies and feisty dance tunes are performed with intriguing
harmonies, intensity, humor and the warm acoustic sound of wooden instruments. Take a
seat on the sofa and float away!
Leija Lautamaja - Melodeon & Harmonium
Malte Zeberg - Double Bass
Clara Tesch - Violin
Mads Kjøller-Henningsen - Wooden Flute & Bagpipes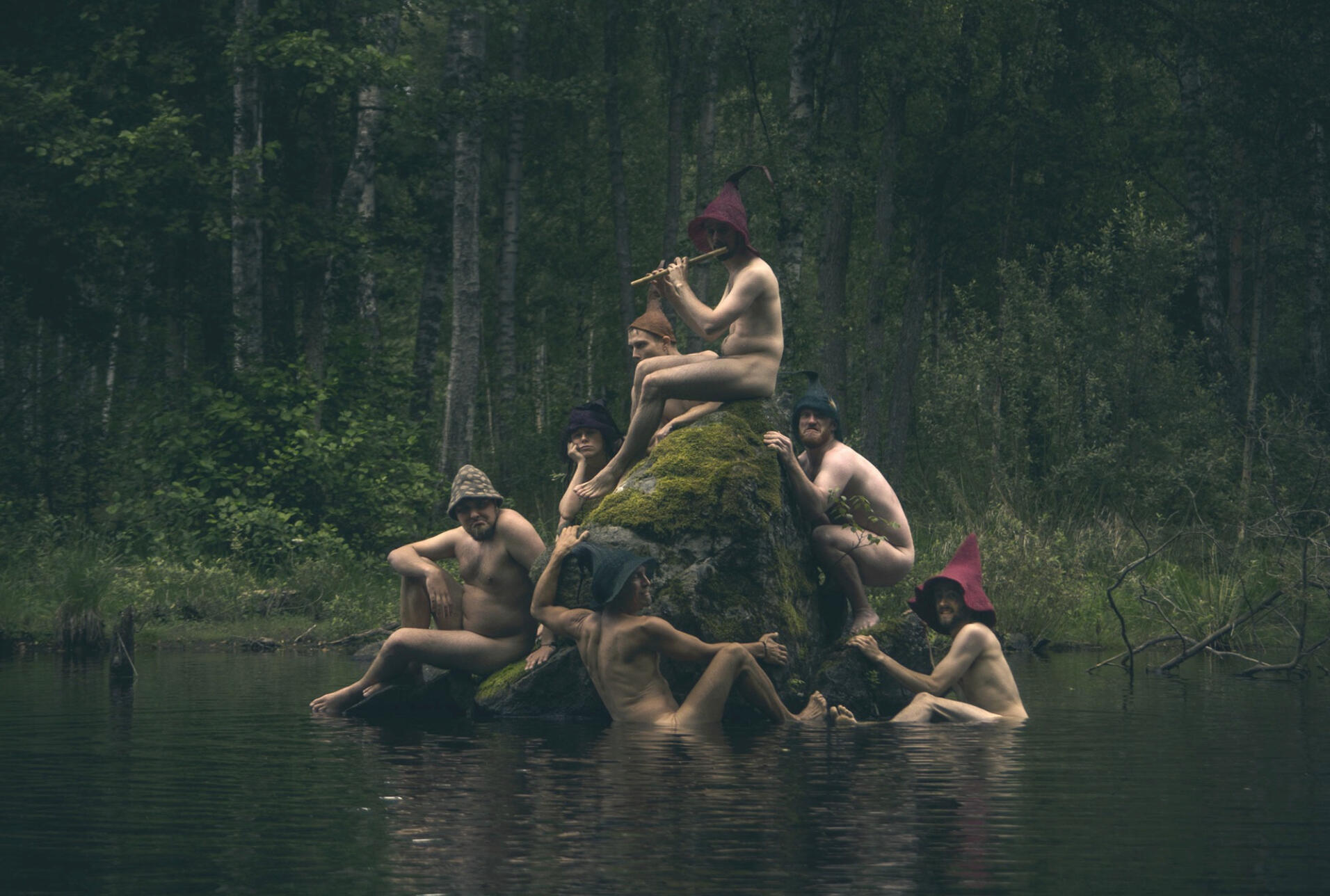 Photo: ©Emma Engström
Trolska Polska
With countless acoustic instruments, this seven piece folk band awaken giants, elves, pixies, fairies and other beings springing from the dark mossy woods, snowy mountainsides and rolling valleys in nordic folk lore through Martin Seebergs lyrical compositions.
Martin Seeberg – viola, fiddle & whistles
Lasse Væver Jacobsen – nyckelharpas, viola d'amore & fiddle
Mads Kjøller-Henningsen – flutes, hurdy-gurdy & bagpipes
Søren Vinther Røgen – cittern & mandolin
Magnus Heebøll – percussion, tabla & jawharps
Alexandra Nilsson – cello, fiddle & vocals
Malte Zeberg – double bass & mandolin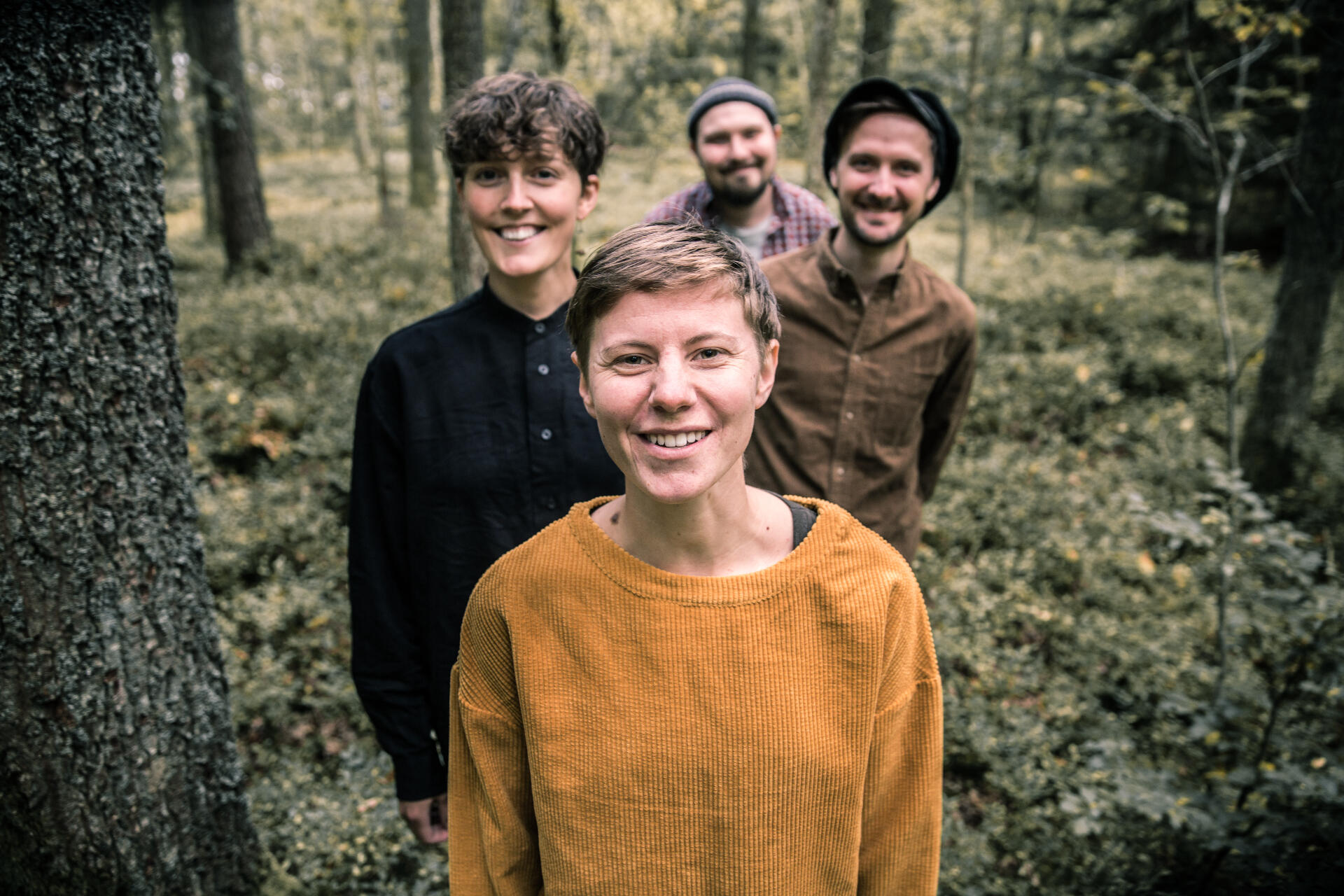 Photo: ©Joakim Bergquist
Nü Fiona
Formed by Singer/Songwriter Izabelle Norén, the Swedish indie-folk quartet Nü Fiona creates a deep lyrical universe where playful friendships meets dark emotional themes.
Izabelle Norén - Vocal & Guitar
Tulda Nielsen - Vocal & Violin
Jonathan Kabell - Drums & Vocals
Malte Zeberg – Double Bass
Photo: ©Nadim Elazzeh
Kristina Issa
The band was formed by musician and songwriter Kristina Issa in the spring of 2013. By picking musicians from the folk-and jazz genres she created a unique pop band that together would shape the music into the epic impro pop it has been recognized as.
Kristina Issa - Vocal, Harp & Piano
Sofia Andersson - Baritone Saxophone & Vocals
Cornelia Nilsson - Drums & Vocals
Malte Zeberg – Bass Guitar & Electric Guitar
Fredrik Brändström - Synth
Emil Blommé - Drums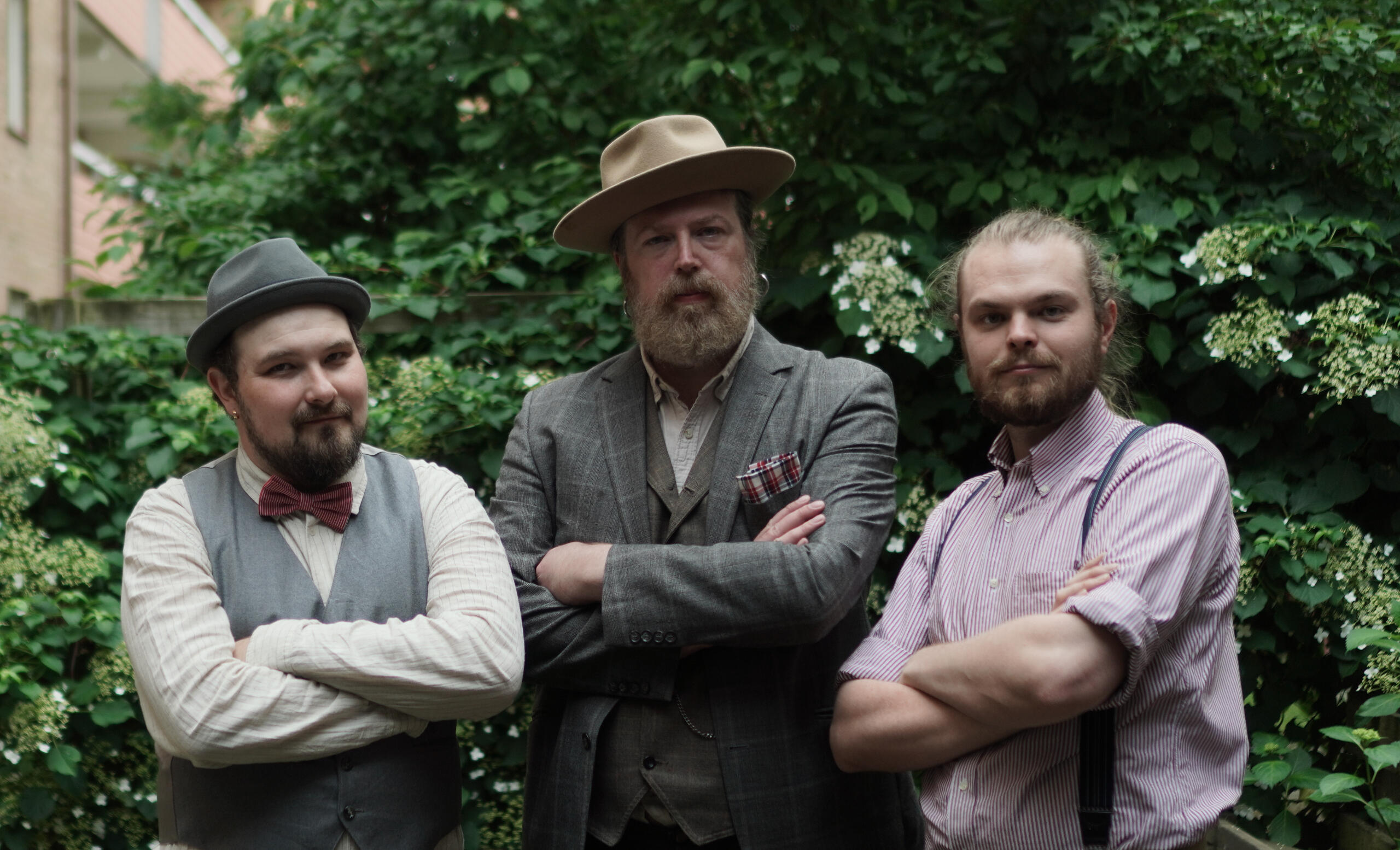 Photo: ©Hialøsa
Hialøsa
Traditional, disruptive and honest. Feet stomping, energetic, intense but always shifting, driven by intense violins and a rythmical bass. Songs about life and death, remembrance of a past looking towards the future.The concert is based upon traditional music from southern Sweden, fragments, songs and new compositions.The group was formed during the year of the pandemic, 2020, but the members have known each other and played together for almost 20 years. In a way a reunion into a constellation that never existed.
Love Kjelsson - Vocals, Octave Violin
Alva Bosdottir - Vocals, Violin
Malte Zeberg – Vocals, Double Bass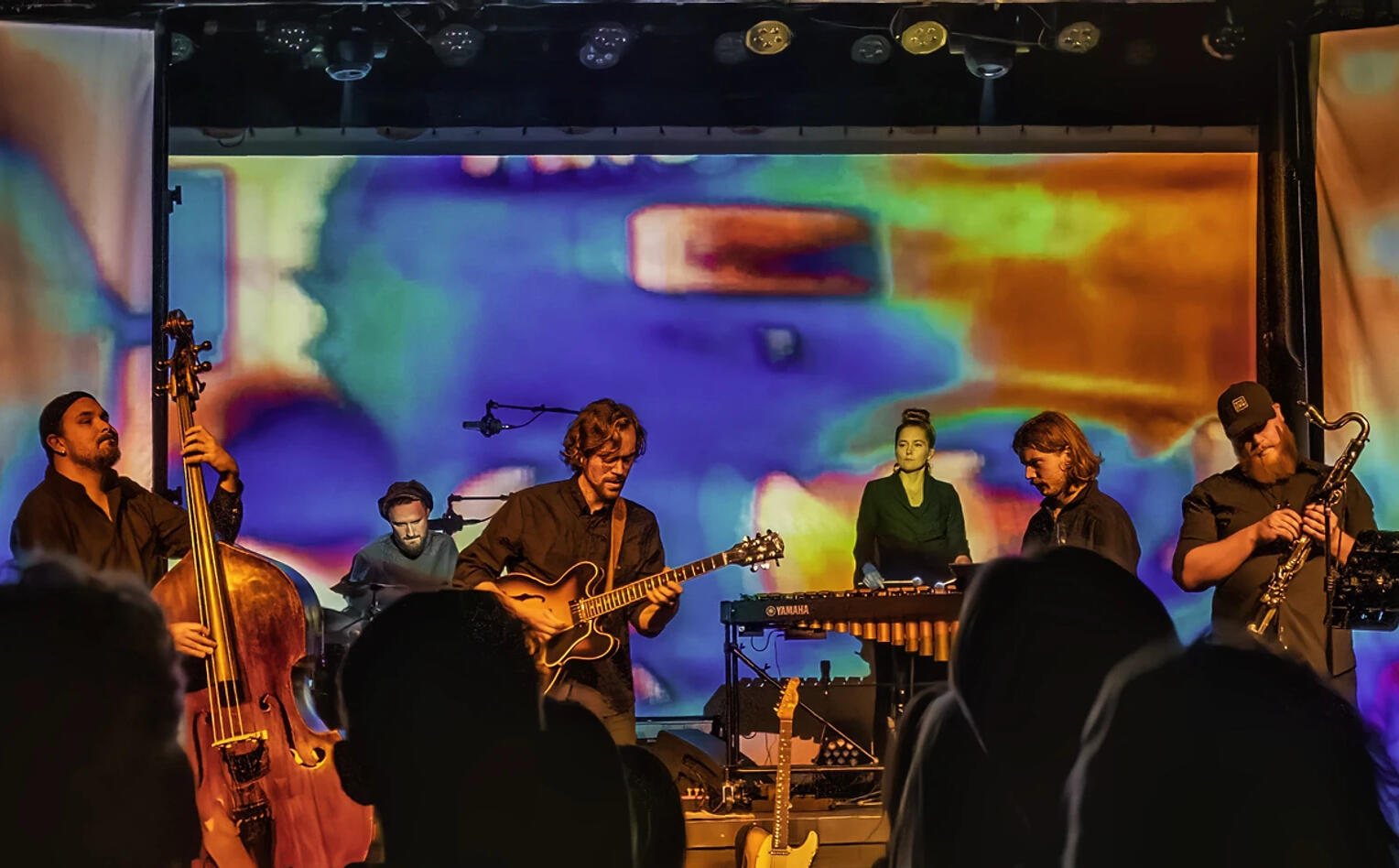 Photo: ©Rose
LUMIA
Audiovisual collaboration between musicians and visual artists.Seven musicians and one visual artist explores the boundaries between live jazz music and modern visual technology. The repertoire consists of original music composed by Tomas Larsson.
Each piece is enhanced by interactive visuals by artist Jonas Johansson, that interplay with the
instruments on stage.
Tomas Larsson - Compositions & Guitar
Fia Forslund - Vibraphone
Jonathan Kabell - Drums
Malte Zeberg – Double Bass
Axel Croné - Clarinet & Saxophone
Adam Sass - Trumpet
Per Thornberg - Saxophone
Jonas Johansson - Visual Artist
CV/Press
Pictures
Awards and nominations
▪ Danish Music Awards Folk, 2019/2020 Album of the Year - Neighbourhood -Floating Sofa Quartet
▪ Danish Music Awards Folk, 2014 Composition of the year - Moss - Trolska Polska
▪ Danish Music Awards Folk, 2013 Nominated for "rookie" of the year - Trolska Polska
▪ Danish Music Awards Folk, 2015 Nominated for "rookie" of the year - Floating Sofa Quartet
▪ Swedish Folk & World Music Gala 2018. Nominated for "rookie" of the year - Floating Sofa QuartetExcerpt of highlight performances
▪ Stora Teatern Gothenburg (SE) 2018, Premier of the show "Queen Zenobia" with Kristina Issa
▪ Kaustinen Folk Music Festival (FI) 2015 & 2017 w. Floating Sofa Quartet & Trolska Polska
▪ Førdefestivalen 2019 (NO) w. Floating Sofa Quartet
▪ Korröfestivalen (SE) 2015/2016/2019 w Trolska Polska , Floating Sofa Quartet and Kakalorium feat Sven Midgren.
▪ Tønderfesival (DK) w Floating Sofa Quartet and Trolska Polska
▪ Folk Baltica Festival (DE) 2018/2019 w Floating Sofa Quartet & Spöket i Köket (stand in)
▪ Cadansa Festival (NE) 2018/2019 w Floating Sofa Quartet & Trolska Polska
▪ Castlefest (NE) 2015 w. Trolska PolskaTeaching
▪ Juatrumskolan, Substitute music teacher for primary school, classes 3-4. Fall 2020 to summer 2021.
▪ Ethno Flanders 2019, Artistic Leader for World Music Camp.
▪ Musik I Syd, Workshop leader for double bass classes summer 2013.
▪ Römosseskolan, Substitute music teacher for primary school, classes 3-9. Fall 2014.
▪ Private lessons In cello and double bass, 2016-2017
▪ Ensemble Workshops Regulary holding wokshops in arranging and playing folk music
▪ Dance Wokshops Regulary holding workshops in Nordic folk dancesModerator/Host & Speaker
▪ Jam Urban vs Rural Musikens Hus 2015 - Moderator and Jam Host
▪ Degebergastämman 2018/2019 - Stage Host and Program
▪ Sjönevadsfestivalen 2011-2015 - Stage Host
▪ Midommarstämman - Stagehost and program